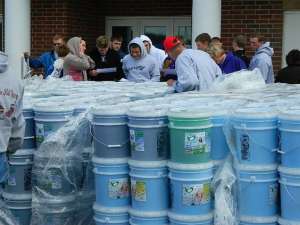 Whether you're a new non-profit organization, or you've been around for years, one of the most important things you can do for your long-term success is create solid foundations for fundraising. No matter what your organization's goals are now and for the future, one thing will remain the same: your need for loyal and committed supporters to help your non-profit get where you want it to go.
The recurring need for fundraising is something that can create a bit of anxiety. After all, your organization is dependent on those funds, and there always seems to be an element of uncertainty to each fundraising campaign. What fundraising method should you use? Will you reach your goals? What will happen if you don't? By building and maintaining solid fundraising foundations, you can reduce that uncertainty and increase your non-profits overall stability.
So, what is a solid fundraising foundation? Imagine that you are a farmer, because farmers have a lot in common with fundraisers in this regard. At the end of the season, the farmer needs to have a healthy and abundant crop, just like your organization needs to end its next fundraising campaign with a healthy infusion of funds. Now imagine this same farmer standing in his field at harvest time – and there is nothing to harvest, except for a few scraggly plants that came back on their own, because he didn't plant any seeds.
Many non-profits take this approach to raising funds without even thinking about it. Although they've been in the community for months or even years, the donors or potential supporters that they approach may never have even heard about them or what they do. This should absolutely not be the case! Your non-profit is an important part of the community, no matter what you do or who you help, and it's important that you plan accordingly.
Community members want to give and they want to help great causes succeed – they just need to know about them first. If you approach someone, asking that they help support your organization, they are far more likely to do so if they already know who you are, what you do and how you impact their community. You need to already be in their minds before the fundraiser, so they will feel confident when supporting you financially.
Creating a fundraising foundation and increasing awareness sounds great, but how do you get there? While spreading the word may sometimes have costs associated with it, such as placing an add or printing off flyers, you will be surprised at what you can accomplish with a little creative thinking. At the beginning of the year, or when you start your non-profit, consider spreading a flyer around your community that explains who you are and some of the recent, great things you've done. Did your junior league team make it to the playoffs? Great! Did your food bank feed 200 families over the holidays? Great! It doesn't matter what you accomplished. What matters is letting people know.
In addition to this, consider other easy ways to spread the word. Volunteer to help out at local events as representatives of your non-profit, and wear t-shirts with your logo while doing it. Contact your local paper and tell them your story – they might be willing to feature your group, or at least do a short write up about you.
When fundraising time comes around, regardless of what you're selling or how you're campaigning, more of the people you contact will already know about you. Making sure your non-profit is widely seen as a valuable part of the community will make you more available to those who need you, and open you up to greater support from the people in your area overall.